STIBC Presentation November 29, 2016
Hello!
Thank you so much again for coming to my workshop at STIBC on November 29th. I appreciate your presence and participation and I hope you got value out of our time together.
As promised here are the presentation slides for your review and personal use. Due to the size of the presentation I had to split it up into three parts that you can easily download by clicking on the links below.
STIBC Presentation – Part 1 (it covers the introduction and Motivation from interest/desire via values, purpose and vision to goals)
STIBC Presentation – Part 2 (this covers Motivation – responsibility & accountability)
STIBC Presentation – Part 3 (and this one covers Productivity, Focus and Conclusions)
Enjoy…and remember: Taking action increases motivation!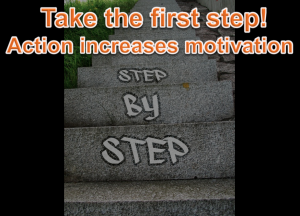 If you have any questions or comments please connect with me at any time at 604-816-4056 (mobile) or Monika@ClearDirections.ca.
Here's to your increased motivation, productivity, and focus…and to your awesome life!
Warmly,
Monika
PS: And if you'd like any support in making sense of the things I shared with you or you could use some guidance in applying any of the tools to your life/business, you may want to consider booking your complimentary Clarity Session with me. I promise it will leave you with at least one concrete thing you can do to move forward with greater clarity, confidence and enthusiasm. You've got nothing to loose (other than 45 minutes of your life) but a lot to gain. Sound good? Then book it here!